The Engaged Scholar Fall '21
Student success through service-learning is at the heart of community engaged learning and teaching. In fact, the theoretical premise is that service-learning experiences enable students to increase cultural and social capital, deepen the understanding of course material, and gain personal growth through exploration of service-learning (Yeh, 2010). It is for these reasons the Center for Civic Engagement (CCE), in partnership with faculty, colleagues, and community members, look for creative models to incorporate service-learning to promote academic success. Overall, this fall the CCE's service-learning program supported 62 sections of classes and approximately 2400 students throughout the Pullman, Global, Tri-Cities, and Vancouver campuses.
The CCE implements a multi-faceted approach to ensure students are not only getting opportunities for community engagement experiences but are positioned for long-term success. In 2018, the CCE partnered with the Provost's Office and the School of Biological Sciences to have 1200 students in Biology 102 (approximately half the students) participated in one service-learning project as a lab. The findings of this two-year study demonstrated that a single service-learning experience is enough to increase grades, overall GPA, and retention in first-year students, when compared to students who did not participate in a service-learning project. 
Building on the success of the project results with Biology 102, the CCE secured grant funding from NASPA in 2020 to support the service-learning component of five College Success Programs offered by the Office of Academic Engagement this fall. Finally, in the Spring '22, we look forward to partnering with the School of Design and Construction to lead the fourth faculty cohort of the Community Engaged Scholars fellowship program. The goals of this program are to establish a community of practice and promote student success through service-learning to improve the student experience. If you are interested in partnering with the CCE in innovative ways, feel free to contact us!
- Ben Calabretta, Associate Director 
Innovative Partnerships
Ananth Jillepalli, Assistant Professor in the School of Electrical Engineering and Computer Science, and students in Software Design Project I (CPT_S 421) collaborated with the Center for Civic Engagement to connect with local, nonprofit community partners with challenges computer science students could assist with such as designing food bank inventory tracking software, medication reminder apps, and accessible software and accessories for adults with disabilities. Including a service-learning component in a computer science capstone course challenges the students to think about designing software for diverse audiences, achieving a deeper understanding of the needs of populations that are underserved, and working towards closing the gap of the digital divide (Traynor & McKenna, 2003).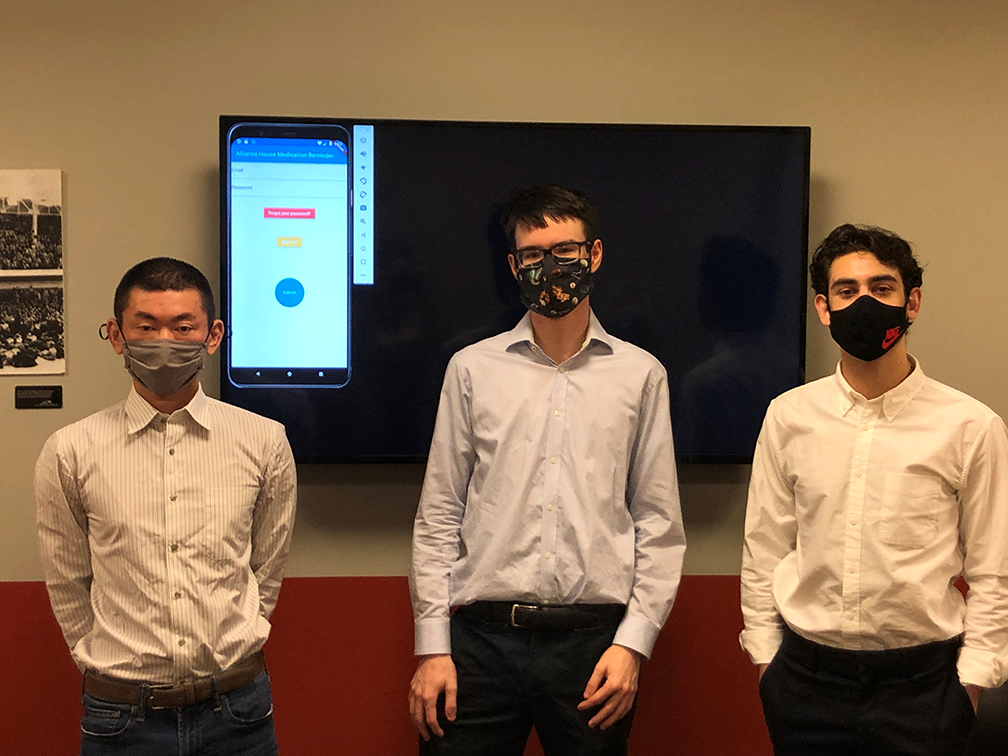 Computer science students presented the progress on the new app.
The students self-selected into teams from a diverse set of nonprofit and industry partners including: Community Action Center, City of Pullman Environmental Committee, Pullman Schools Pantry Program, Disability Action Center Northwest, Latah Alliance on Mental Illness, Microsoft, Pacific Northwest National Lab, Schweitzer Engineering Lab, Starlight Sonata Ventures, University of Idaho, and Millersville University.
Latah Alliance on Mental Illness (LAMI) proposed students design and create a user-friendly app that reminds adults with disabilities to take their medications as scheduled. This process required the students to consider the human experience when developing the application, digital literacy limitations, confidentiality issues, accessibility issues, and financial implications. The team of students working on this project are all seniors and computer science majors. Shin Yamagami stated that working with LAMI provided him with the opportunity to think more about the experience of the user and listen to the needs of the client. Stuart Brown shared that he did not know agencies such as LAMI existed nor that there is a need for this type of support prior to this project. He also learned about preferences in how to display information to make using the app more user friendly to a diverse audience and appreciated the ability to communicate directly with the agency when developing the app since developers and customers do not always have the opportunity to interact. Additionally, Jordan Getty feels a sense of pride knowing that his work will directly help people in need of support. Service-learning in computer science courses provides the option to enhance interpersonal skills, find personal meaning within their work, develop a deeper sense of critical consciousness, and consider the social responsibilities as software development professionals in the future (Yeh, 2010).  The students felt empowered to make a difference using their skills and resources (Tan & Phillips, 2005). The team of students working with LAMI all stated their work was meaningful and had a positive impact on their personal development, achievement, and professional skills.
Transformative Learning Experiences
Ron Smith is a veteran, semi-retired, in his seventies, and a WSU Global student. This fall, he completed his bachelor's degree in Sociology, Criminal Justice, and Political Science. Ron was a student at Washington State University from 1998-2001 and only needed one more semester to graduate. Ron stated, "my experiences since I returned to WSU Global Campus have been the best in my entire college career. The professors, technical assistants, Access Center personnel, academic advisors, bookstore employees, finance department personnel, and the Center for Civic Engagement have all been outstanding, cooperative, and kind." Ron chose to participate in a remote service-learning project with Letters Against Isolation. According to Conner & Erickson (2017), commitment to social change, improved attitudes, enhanced critical-thinking skills, and a deeper understanding of social biases can be attributed to participation in service-learning courses. The service-learning component of this course provided Ron the opportunity to learn more about relating to others and developing the communication skills necessary to understand the perspectives of diverse groups.
Dear Pen Pal, My name is Ron Smith, and I am seventy-four years old. I live in Long Island, New York. After fifty-five years, I am still trying to finish a bachelor's degree through a distant learning program at Washington State University. One of my classes offered an opportunity to write to people all over the country and share some experiences, which I thought might be enjoyable and informative for both of us.
— Ron Smith's Personal Letter to a Pen Pal, October 7, 2021
Ron stated he chose this project because he could, "identify with the concept of being isolated in a nursing home as my wife and I are both in our seventies. In addition, as a disabled veteran, I am especially vulnerable. This assignment offered an opportunity to do something that was both immediately rewarding and hopefully uplifting to the people receiving my letters. I also wrote to a different facility, in a different state, each time, states that my wife and I had visited. Hoping that by talking about what we had seen and enjoyed in their states, it might trigger a few fond memories of their own travels."
Mary Stohr, professor in the Department of Criminal Justice and Criminology, teaches the Global Women's Studies and Violence Towards Women class. Global campus students in this class participated in over 90 service-learning projects in person and remotely this fall. The types of projects students chose to participate in range from working with individuals and families experiencing effects of poverty, communicating with individuals in isolated communities, and working with vulnerable adults.
Introduction to Community Engagement, Honors 211, is included in the Mindfulness Emotional Social Intelligence (MESI) Certificate program and is taught by Jessica Perone and Ben Calabretta. Students are introduced to community engagement and the importance of this practice in their own work and life in this 10-week course. This course surveys critical concepts of community engagement, including but not limited to equity, bias, citizenship, human rights, advocacy, civic leadership, reciprocity, and discrimination. Students use an interdisciplinary approach to analyze and actively engage in principles and practices of service-learning, community engagement, and report growth academically, professionally, personally, and civically.
I was able to learn multiple things, but the most important takeaway I found was how community engagement can help you make connections with people. This lesson will help contribute to my career in many ways. Most importantly it will make me less afraid to put myself in uncomfortable social situations.
— Mackenzie Ault
Because of my service-learning, I am simply a better person than I was before! And I recommend it to anybody who is looking for a transformative or a learning experience in life.
— Liyon Mehari
I have found I have learned qualities of myself I was unaware of - while also gaining new qualities through community engagement (such as humility and reciprocity).
— Kristina Tynon
Because of my service-learning, I am more inclined to look beyond myself and consider what I can do for others and what I can learn in the process.
— Nicole Craze
David Shier, Associate Dean of the Honors College is a supporter of the Center for Civic Engagement and service-learning. He stated, "Honors College students are high achievers with the skills needed to excel in school. Community engagement provides them with opportunities to expand beyond the classroom and apply their skills to the issues facing the members of their communities, and to work collaboratively towards the achievement of a community partner's goals. Such engagement broadens one's understanding of and empathy towards others, and enriches one's sense of connectedness to one's community."
Collaborative Discovery  
Margaret Ritsch and Yen-I Lee, Assistant Professors in the College of Communication and students in Public Relations Management and Campaign Design (COMSTRAT 485), collaborated with the Center for Civic Engagement to connect with local, nonprofit community partners with needs related to public relations such as increasing memberships within specific demographics and availability of certain products. Students in the two sections of classes were divided into four teams and worked with Moscow Food Cooperative, Pullman Good Food Cooperative, Whitman County Rural Library District, and Colfax Downtown Association.  Each team met with their community partner to gain a better understanding of the market they serve and the services they provide. Students also administered surveys and held focus groups to gather more input from their client's audiences. Students conducted quantitative and qualitative research and designed strategic communication campaigns that addressed their clients' current challenges. Margaret believes that incorporating service-learning in the course and working with local nonprofits has made the learning experience more relevant to the students and gives them the sense that their efforts have a real impact.
Students meeting with Moscow Food Cooperative Store Manager and Marketing Manager.
 Kendall Langis, senior and Public Relations major with a Business Administration minor, was in Margaret Ritsch's class and was the team leader for the Moscow Food Cooperative group.  Kendall stated, "This is one of the most impactful classes I have taken during my time at WSU because of this service-learning project. The way Covid coincided with my education, I ended up taking many of the very important classes in my major online. It was fantastic to get to be back on campus, and have such an immediate, hands-on learning experience. This is by far the most real-world work I've gotten to do for a class, and I feel like I learned so much more by being put in that situation. It was very meaningful to be able to work with an organization that is such a staple in the local community. I had been to the Moscow Food Co-op many times during my years at WSU and was excited for the chance to work with a place I had already been a fan of. Pullman and Moscow are such special, small-town communities, and getting to dive into what it is like to be an organization serving this community was such a cool experience." This service-learning project provides the students the opportunity to advance their professional skills, learn to deal with the complexities and dynamic needs of their clients, and gain practical experiences as public relations strategists (Gleason & Violette, 2012). Students presented their survey results, literature review findings, and strategic campaign plans to the clients as a professional presentation at the end of the semester.
Engagement News
Dave Jones, CCE Student Engagement Coordinator, won the Arete Award for the Staff Member of the Year. See the photo below.
WSU & UI Campus Community Forum will be held in person at the University of Idaho in April 2022. The Campus Community Forum is a time to reflect and celebrate the local community engagement efforts taking place on the Palouse.
Community Engagement Summit will be held virtually in May 2022. Join WSU faculty, staff, students, and community partners from across the state for the 2nd annual systemwide Community Engagement Summit. Attendees will celebrate together by listening to recent success stories from across the state while reflecting on how WSU and its community partners can continue their important community engagement work together.
Dave accepting the Arete Award from Megan Harre.
Scholarship Opportunities
Journal of Community Engagement and Scholarship (JCES) invites the submission of manuscripts that relate to its mission: To provide a mechanism through which faculty, staff, and students of academic institutions and their community partners may disseminate scholarly works from all academic disciplines.
Upcoming Conferences
NASPA Annual Conference, Baltimore, MD, March 19-23, 2022 
Compact22: A Better Way Forward: Innovation w/ Equity at the Center, Virtual, March 29-31, 2022 
Civic Learning and Democratic Engagement, Minneapolis, MN, June 21-24, 2022
References
Conner, J. (2017). When does service-learning work? Contact theory and service-learning courses in higher education. Michigan Journal of Community Service Learning, 23(2). 
Gleason, J. P., & Violette, J. L. (2012). International Journal of Teaching and Learning in Higher Education , 24(2), 280–285. 
Tan, J., & Phillips, J. (2005). Incorporating Service Learning Into Computer Science Courses. Journal of Circuits, Systems and Computers, 20(4), 57–62.
Traynor, C., & McKenna, M. (2003). Service-learning models connecting Computer Science to the community. ACM SIGCSE Bulletin, 35(4), 43–46. 
Yeh, T. L. (2010). Service-Learning and Persistence of Low-Income, First-Generation College Students: An Exploratory Study. Michigan Journal of Community Service Learning, (Spring), 50–65.