The Engaged Scholar Spring '22
Taking Action Towards Positive Change
Collaboration with the CCE's Academic Service-Learning program proactively prepares our next generation of citizens to be socially responsible and committed to taking action towards positive change. This spring, 37 classes, and over 1100 students had the opportunity to participate in service-learning.  Service-learning is a crucial element of student success because it connects academic achievement, personal growth, and professional development, and it provides a sense of purpose and belonging to the greater community. Lexi Martin, a junior majoring in social science and in Global Families in Poverty (H_D 403) class this spring powerfully and authentically stated, "I used to believe that it was not my responsibility to help people who were not capable of helping themselves, however, now I believe that it is important to make sure that your friends, neighbors, and fellow community members are well taken care of and given ample support. As human beings, we need to look out for each other and do what we can to make sure that we all have happy healthy lives." The more positive and intentional connections that students can create within their communities, the more positive the experience will be with the institution leading to higher rates of retention, sense of purpose, and persistence (Simonet, 2008).
We hope to see you all at the virtual 2022 WSU Community Engagement Summit on Zoom on Tuesday, May 3, 2022, to celebrate student success, active citizenship, reciprocal partnerships, and stronger communities across the WSU system. Attendees will observe and reflect upon the variety of ways every WSU campus and the community partners across the state are working together to meet the needs of the community, students, faculty, and the institution.
-Ben Calabretta, Associate Director
Innovative Partnerships
COMSTRAT 326 and the 5k for Mental Health
 Traci Gillig, WSU Pullman Assistant Professor taught COMSTRAT 326, Organizing for Social Change this spring. The course partnered with the Disability Action Center Northwest (DACNW) and Latah Alliance on Mental Illness (LAMI) this semester to collaboratively plan the 3rd Annual 5k For Mental Health. The mission of this virtual event is to bring awareness and education to the community about mental health, promote community inclusion, and destigmatize mental illness.
The students strategized on how to encourage all community members, especially the young-adult demographic to register and participate. Students met with Vicki from the Disability Action Center, and worked in teams to develop materials including but not limited to memes, TikTok, and videos.  They also created fliers and posters (view 5k for Mental Health Posters) that represented diverse communities of all ages and abilities, designed content for a strategy calendar, and wrote press releases and radio scripts.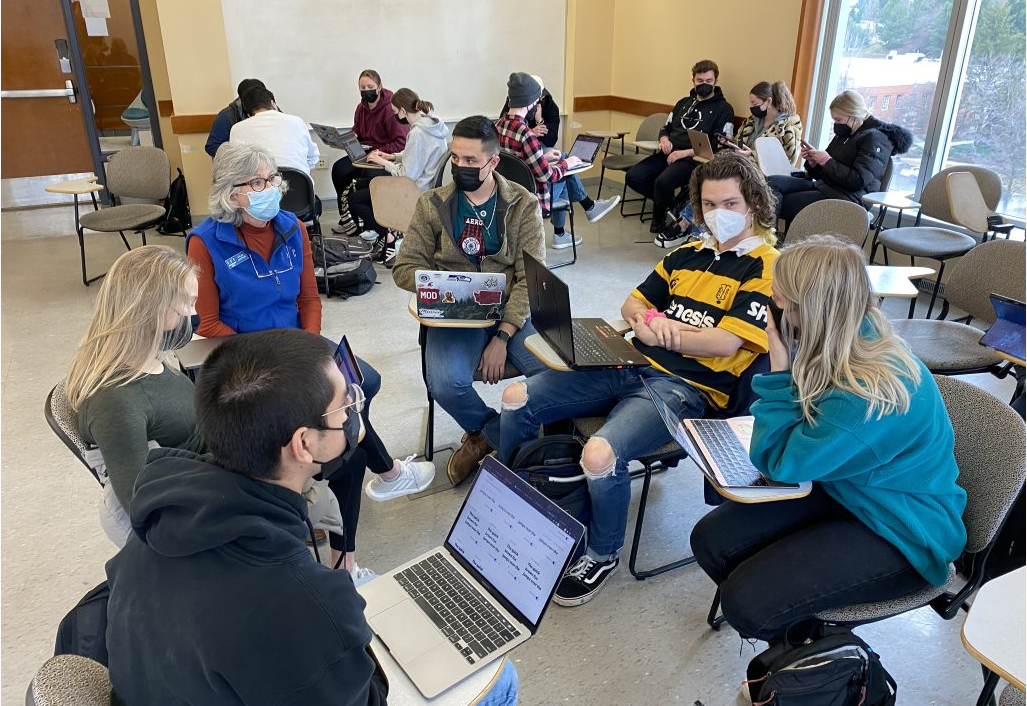 Vicki Leeper from Disability Action Center Northwest visits with the teams in COMSOC 326 for updates about the 5k for Mental Health event.
According to Meyers (2009), students gaining firsthand experience working alongside community-based agencies in service-learning projects provides the space for students to shed preconceived stereotypes, become more empathic to social problems, engage in self-assessment, and put theory into practice. Hailey Nelson, a senior majoring in Psychology and Risk and Crisis Communication stated, "Participating in the service-learning project helped me communicate better with possible clients and learn how to implement design ideas that met the client's criteria and standards. I hope to be working at a public relations agency in the future, and effectively communicating ideas while meeting the client's standards is a very important piece to succeed in that work environment.  Interacting with the leaders of our community partners gave me a deeper understanding of the passion, perseverance, and dedication social change organizers have and continue to have to support their cause. It can sometimes be hard to relate/connect with social change activists that are discussed in class, so hearing from leaders on a personal level helped me grasp the magnitude of the source of their activism."
This service-learning course project provided the students with the opportunity to use their knowledge and skills to bring awareness to mental health and give a voice to marginalized groups who are ignored and feel invisible. Sarah Weatherford, a fourth-year student majoring in Strategic Communication, stated, "Service-learning provides critical thinking skills that are applicable to everyday life. It is beneficial to students to see the change they are making and apply what they are learning to real-world situations. Homework and projects can be seemingly pointless, but with service learning, you are actually doing something to make a change. A service-learning project shaped my desire to work for philanthropic valued companies. Values such as advocacy and organization are some of the key things I look for when going into any form of relationship, working and personal. It's been a great opportunity to have learned about all those things under Traci Gillig."
This event had an in-person kick-off at Palouse-Clearwater Environmental Institute (PCEI) in Moscow, Idaho on April 9, 2022, and will continue as a virtual event through May (Mental Health Awareness Month). Participants of all ages and abilities can register on LAMI's website and receive a free t-shirt and fun swag. All participants will keep moving walking, rolling, strolling, biking, dancing, etc. through May on their own. Everyone is encouraged to share their activities online to bring awareness to mental health and destigmatize mental illness.  Participants can share about their activities on LAMI's website, their 5k Tribute Site, LAMI's Facebook page, or by using #Moveformentalhealth.  
English 402 Partners with Tri-City Area Gaming
Vanessa Cozza, WSU Tri-Cities Associate Professor and CCE Community Engaged Scholars Fellow, taught English 402, Technical and Professional Writing this spring. The course partnered with Tri-City Area Gaming (TAG) this semester. TAG is a non-profit organization striving to build community and inclusiveness by hosting gaming events for all.
Sara and Brendan Quinn, the organization's owners, have tasked students in this course to rewrite gaming instructions to be inclusive, and understandable to all ages and abilities. Anyone who plays board games knows how difficult it can be to read and understand gameplay instructions. Some instructions can be overwhelming and poorly written, which leads to players becoming significantly frustrated. This creative service-learning project provides real-life impact, enriches the curriculum, and gives meaning to their work (Meyers, 2009). The students' rewritten instructions will be used in a scholarship event hosted by TAG. Sara and Brendan also will translate the students' instructions into Spanish and Russian for multilingual families.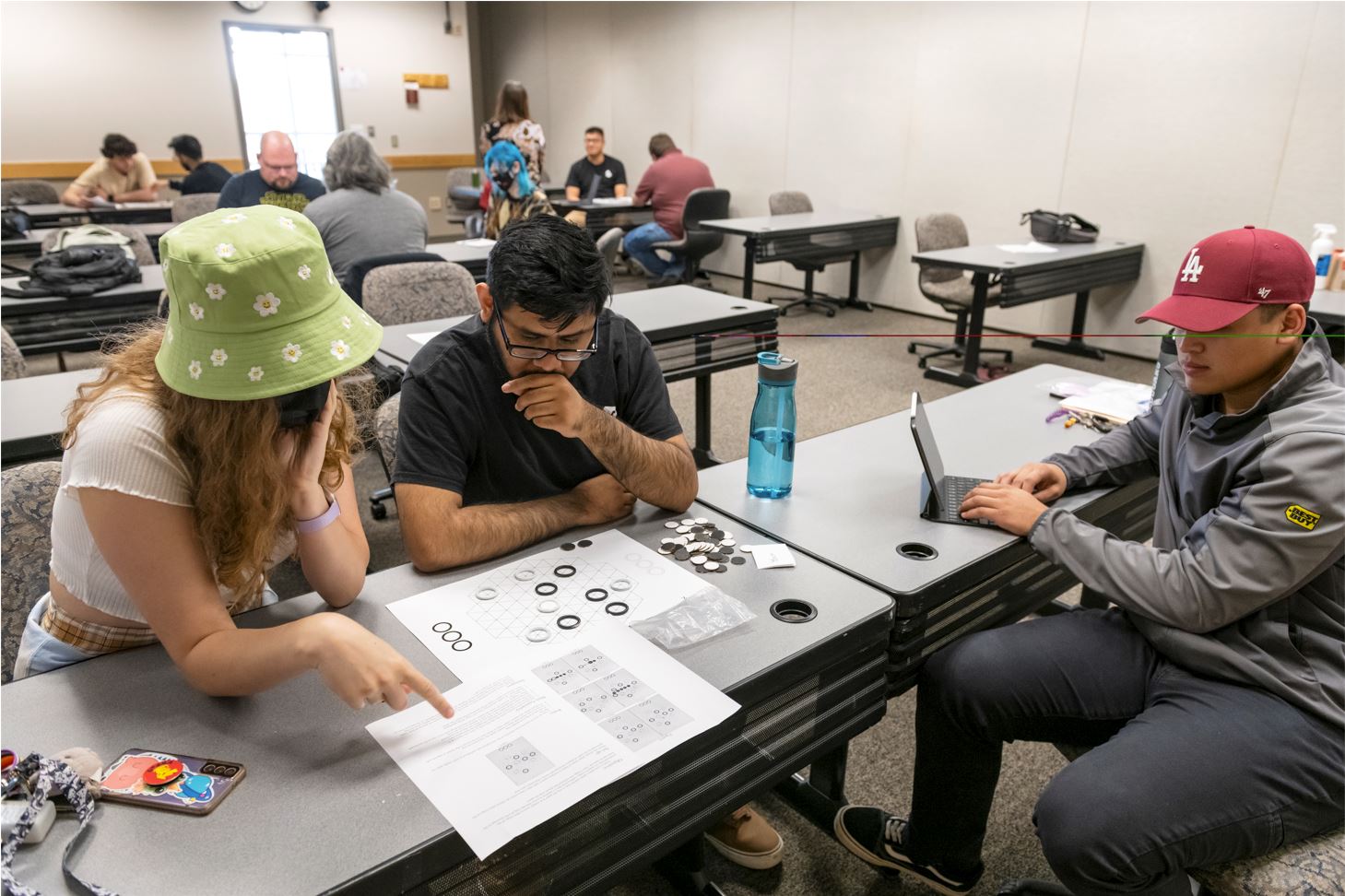 Tri-Cities students in English 402 work in teams to rewrite gaming instructions to be inclusive and understandable to all ages and abilities.
Because of my service learning I am excited to continue to work within my community here in pullman and after graduation at my community in my hometown to help others and be of service in any way I can.
— Kaia Grobstock
Transformative Learning Experiences
Costly Alternative Medical Services Provided for Free by WSU Student
Jen Bull, WSU Global campus student was in Families in Poverty (H_D 403) Mary Garcia this past spring. Jen partnered with Unlocking the Body in Puyallup, WA to fulfill the service-learning component of the course. Jen is a senior and is majoring in Social Sciences with an emphasis on Human Development, Psychology, and Sociology, with a minor in Political Science. After graduation, Jen plans to apply to a Physician's Assistant program. Jen stated, "Ideally, I would love to work with the disabled providing care which incorporates my bodywork background in alternative healthcare with western medicine practices as a Physician's Assistant (PA). If unable to work with Veterans, I would like to work with active-duty military families stationed outside of the US." The service-learning component of this class challenges the students to connect the content of their learning to the complexities of real situations communities face.
This semester, Jen provided free alternative medical care including massage and Craniosacral Therapy weekly for no cost to Veterans, students with disabilities, and individuals with low income. Without Jen's time and compassion, these services would have otherwise been cost-prohibitive.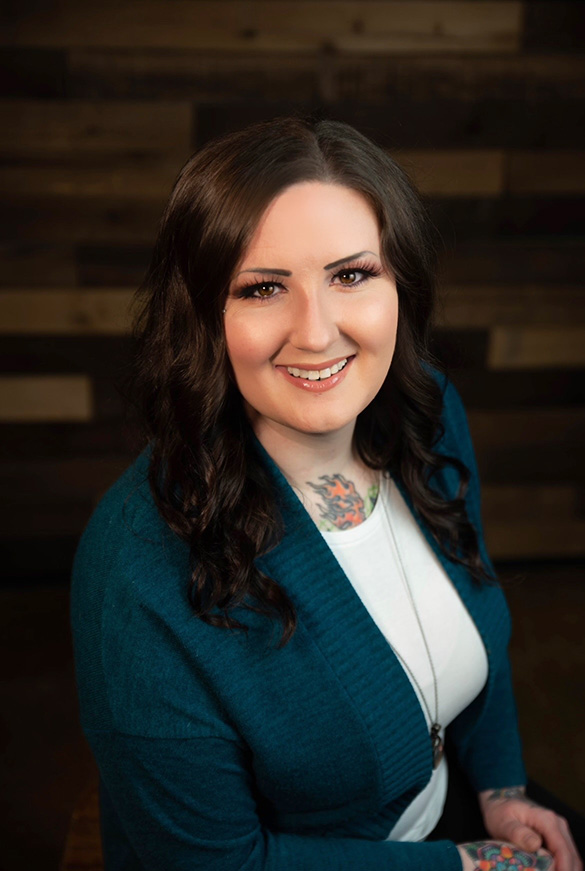 Jen Bull, WSU Global campus student and student in Global HD 403: Families in Poverty.
Service-learning calls students to be agents of social change and challenges them to envision a world that is transformed (Meyers, 2008). Jen stated, "I have learned that consistent weekly exposure to someone who is disadvantaged and needs help keeps my mindset grounded and it is easier for me to stay in a "bigger picture" mindset with compassion, understanding, and thinking outside of the box on ways I can help people not only with manual therapy and soft tissue rehab but with other aspects they may need help that I was not looking for prior to this experience like food insecurity, medical care team coordination, basic clerical help to fill out aid applications. The most important lesson I learned from the service-learning experience was to ask questions about things other than their pain and quality of life associated with activities of daily living. Ask them about the resources they have access to including sleep, food, support, computer skills, mental ability, strengths, and weaknesses to support them."
Because of my service-learning I have gained more of a connection and understanding of the community which has increased my sense of belonging here in Pullman.
— Meredith Smith
Creative Discovery - 2022 Academic Showcase
Research projects focusing on discovering causes and/or solutions to community-identified needs were an important highlight of the 2022 Academic Showcase poster session. This type of work is critically necessary to identify and remove the various social, cultural, and logistical barriers that confound the well-intentioned efforts of many community organizations.
Gerrymandering and the Placement of Minoritized Children in Public Schools
James Owusu Asare
James Owusu Asare is currently pursuing a Ph.D. in the Math and Science Education program in the College of Education under a combined NSF grant between the Math department and department of Teaching and Learning. James was inspired to do this work by Dr. Daryl Deford and a previous advisor, Bala Krisnamoorthy.
Gerrymandering is the practice where politicians purposefully change election district boundaries to favor their party, or socioeconomic class while damaging the chances of their opponents seeking political representation. This old 19th century practice has plagued the U.S. for many years and has had adverse effects on elections, transparency in governance, policies, and many more. Because public school districts lie within the boundaries of a county or district, redrawing these boundaries affects the assignment of children to public schools.
The problem of assigning children to schools is an overly complicated one and advocates have suggested the use of computer algorithms for this because they claim they are nonpartisan. Surprisingly enough, there is no mathematical or experimental evidence that supports their claim. Policy makers, nonetheless, have been relying on the direct application of these computer algorithms to justify the school assignment areas for students. My research looks at the effect of the direct applications of gerrymandering algorithms on perpetuating segregation. My work aims to curb inequities in the assignment of minoritized children to public schools.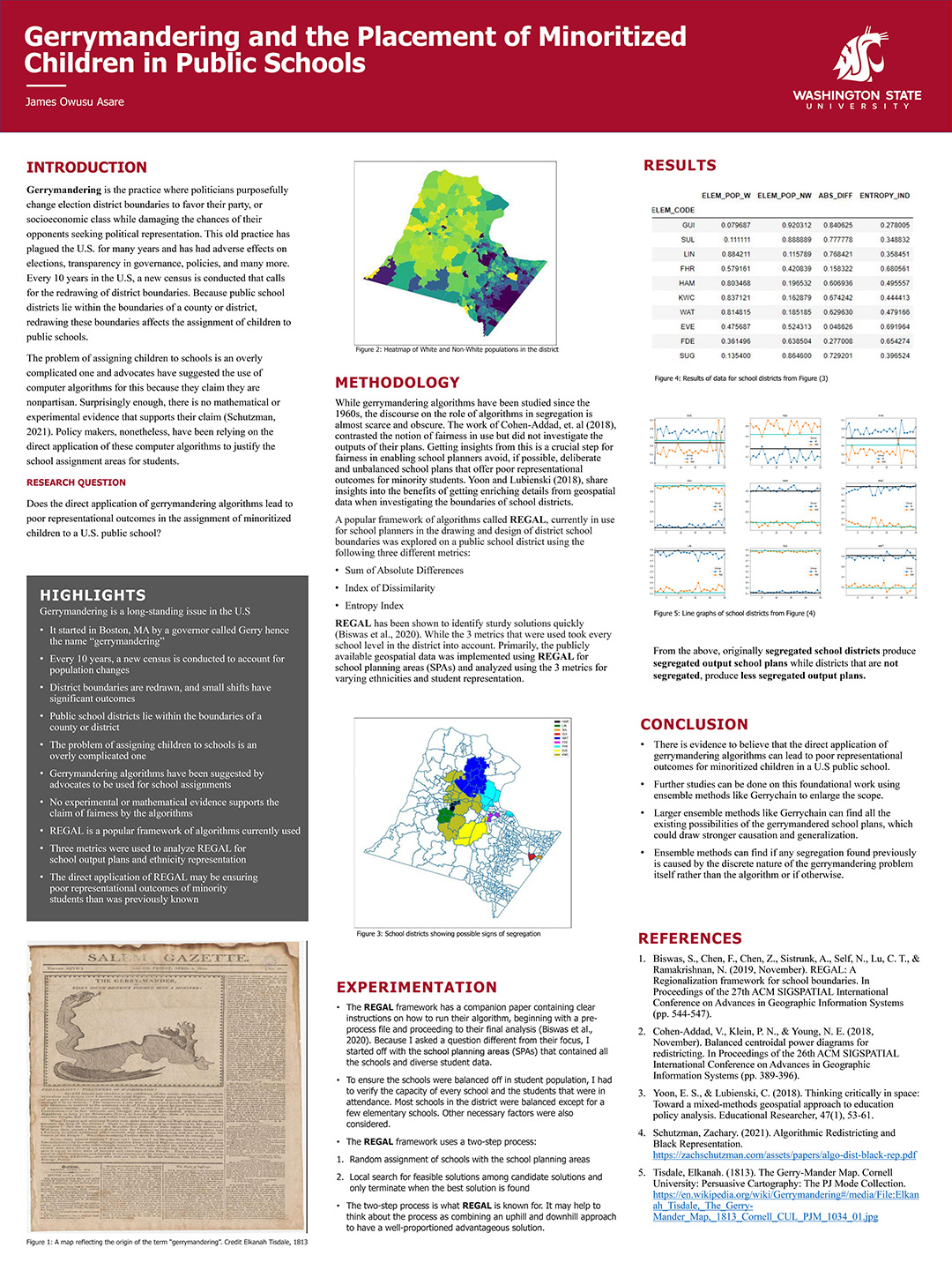 WSU Showcase Poster: Gerrymandering and the Placement of Minoritized Children in Public Schools; James Owusu Asare
E-Fitness: Online Fitness Program
Holly Curry, Dr. Tami Goetz, Dr. Anne Cox, Dr. Phillip Morgan
Holly Curry is a WSU kinesiology master's student studying movement and sport science to develop an online physical activity program for youth. E-Fitness is an eight-week long online fitness program designed to motivate and encourage high school students to move their body by engaging in a variety of physical activities. This program included livestreams hosted via Zoom, take-home modules, exercise logs, and a physical activity calendar. We had a new presenter each week discuss their topic of choice along with instructing a ten-minute workout to the students. This program allowed students to engage in a variety of physical activities they may or may not have participated in before, create both short- and long-term goals to incorporate daily movement after the program, and understand how exercise can play a tremendous role in our everyday lives.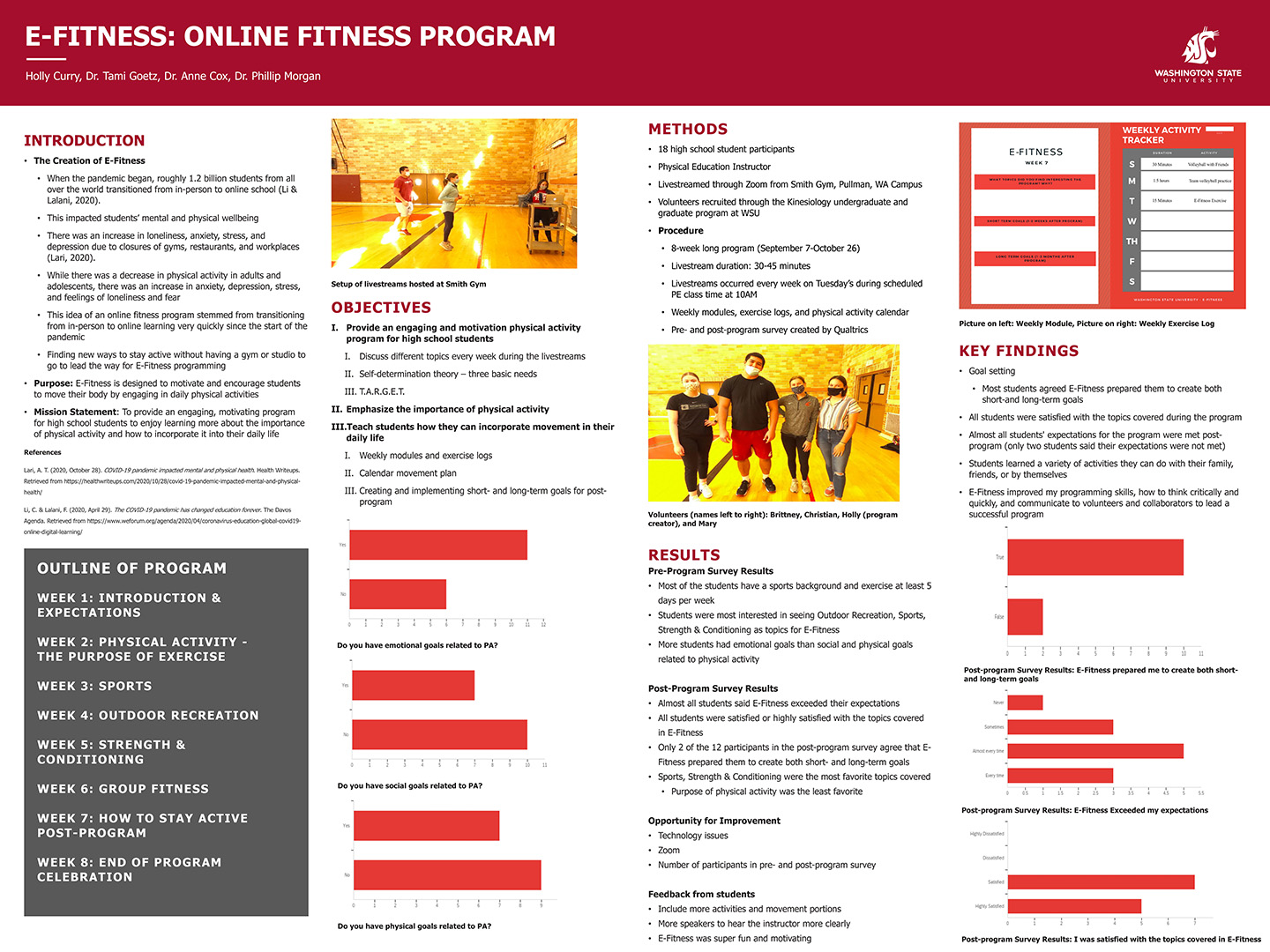 WSU Showcase Poster: E-Fitness: Online Fitness Program; Holly Curry, Dr. Tami Goetz, Dr. Anne Cox, Dr. Phillip Morgan
With coaching, I learned that I care deeply about the children within my community, and I want to help them in any way I can to grow up and not face the hatred that the real world comes with, even if that is just softening the blow just a little bit.
— Jayden Romero
Campus Connection
Community Action Center
Between August 2021 and April 2022, over 120 WSU students volunteered at the Community Action Center (CAC) for a total of 770 hours. They assisted with 11 different events, from mobile food stand assistance to food box prep to quail egg cleaning. The reflections that students submit are overwhelmingly positive, it is clear why this organization has been a top choice for students over the past year.
Over that same time, the CAC has served 6,535 clients, 2,247 households, and 1,672 supplemental clients in Whitman County.
Setting up the Community Action Center mobile food stand,
This summer, the CAC will be working on reinvigorating their Community Food's Garden activities after taking a hiatus while they've focused on meeting the skyrocketing urgent food needs in Whitman County during the pandemic. They have recently welcomed a new member to their team, Claire Cantrell, as the Garden and Hydroponics Specialist. Claire oversees the CAC gardens, hydroponics, and gardening classes that will be held at the CAC Riverview Affordable Housing Complex, the CAC office building, and Koppel Garden. They are excited to feature Seed to Table teaching events focusing on how to grow things like pizza gardens or salsa gardens and will have programming focused on Square Foot Gardening that will focus on families who have limited space and income but still want to produce veggies that they enjoy at home.
As always, keep an eye out on the CAC Website and CAC GivePulse page for more information and opportunities to volunteer!
For more highlights from community organizations, stay tuned for the next Campus Connection Newsletter in July.
Engagement News
Recent and quick updates from the semester.
Scholarship Opportunities
Journal of Community Engagement and Scholarship (JCES) invites the submission of manuscripts that relate to its mission: To provide a mechanism through which faculty, staff, and students of academic institutions and their community partners may disseminate scholarly works from all academic disciplines.
Upcoming Events
References
Meyers, S. A. (2009). Service Learning as an opportunity for Personal and Social Transformation. International Journal of Teaching and Learning in Higher Education, 21(3), 373–381.
Simonet, D. (2008) Service Learning and Academic Success: The Links to Retention Research. Minnesota Campus Compact.